Jewelry Repair Specialist in Houston, TX
Trust Our Team of Jewelry Experts
Your jewelry is a valuable investment that should be given the utmost care and maintenance. Houston Jewelry Buyers is staffed with professionally trained jewelers who are experts in jewelry repair, refinishing, and refurbishment. The experts at our Houston jewelry store know how to provide the fast and reliable services you need.
Your jewelry should last you a lifetime. Take care of your precious pieces and make sure you bring in your valued jewelry for quick and easy repair! We provide complimentary refreshments while you wait!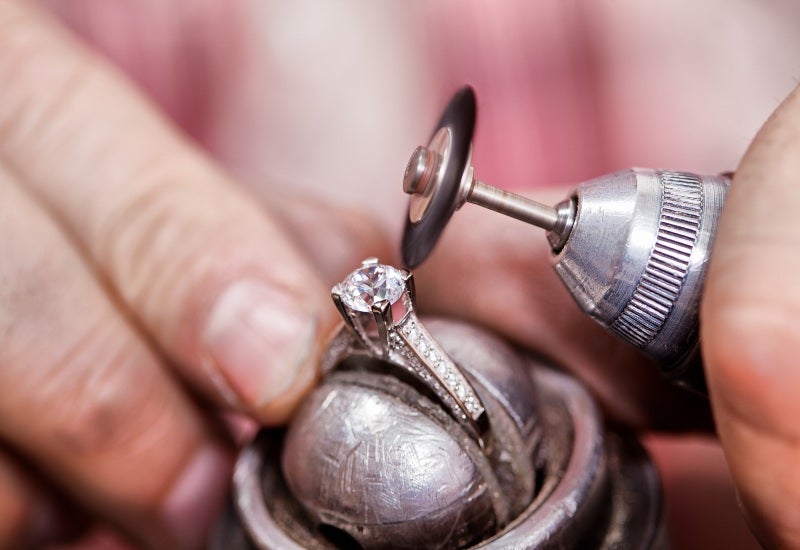 What Is Jewelry Repair?
When your precious fine jewelry takes a hit or gets damaged, it can be stressful and even heartbreaking. But it doesn't have to be stressful for long. With our jewelry repair services, you can get your jewelry back to new in no time.
Many pieces of fine jewelry are fragile, which means that they will take some damage over their lifetime. That's where our high-quality jewelry repair comes in and makes it so the nice things in life can last much longer.
Why Repair Jewelry?
Fine jewelry is one of the most common heirlooms for a reason! When jewelry is taken care of properly, it appreciates in value and can be a beautiful symbol of many memories and loved ones. But fine jewelry can never become an antique heirloom if it isn't taken care of. Repair your fine jewelry with us at Houston Jewelry Buyers and keep your jewelry shining.
How Long Does Jewelry Repair Take?
We can have your fine jewelry repaired and back to you within an hour to a couple of business days, depending on the availability of our professionals and the condition of your jewelry. With more serious or extensive damage, it may take longer. We value high-quality work. Give us a call today for an estimate!
When Should I Get My Jewelry Repaired?
Although some damage can wait for repair, we recommend that customers bring their fine jewelry in for repairs as soon as they notice the damage. If you notice a loose prong or a scratch, the longer the repair waits, the worse the damage will get. Bringing in your fine jewelry to our jewelry repair shop will provide it with the longest lifetime and the highest quality.
Choose Houston Jewelry Buyers
There are many types of damages that can happen to fine jewelry, and our team at Houston Jewelry Buyers has the tools and expertise to restore and repair your jewelry. We provide the following professional jewelry repair services:
Ring Resizing
Necklace Repair
Bracelet Repair
Pearl & Bead Restringing
Sterling Silver Repair
Cleaning and Repolishing
Refurbishing
Ring Shank Replacement
Soldering
Prong Tightening or Lengthening
Rhodium Plating
Stone Replacement
Stone Tightening
Whatever repair services you need, come see us at our Houston jewelry repair shop, and our team of experts can assess the damage and return your jewelry to perfect condition.
Other Jewelry Services
Our team prides itself on the fact that we provide complete full-circle service. We are passionate about fine jewelry, and we are here for any jewelry needs you have.
We buy, sell, repair, clean, replace and refurbish your beloved jewelry to restore its value. Come to our showroom to meet with our professional jewelry experts or visit our site for more information on our products and services.
Contact Houston Jewelry Buyers for Jewelry Repair
Choose Houston Jewelry Buyers the next time you need jewelry repair, or when you're looking to buy or sell fine jewelry. Our business has been family owned and operated since 1967, and we can't wait for you to join the Houston Jewelry Buyers family.
Why Choose Us?
FREE Appraisals
On-Site 24HR Security
Repairs While You Wait!
In-Store Fine Watch & Clock Center
Family Owned & Operated Since 1967