We Buy Watches for Cash in Houston, TX
 

We've Got a Knack for High-End Watch Buying
Houston Jewelry Buyers helps customers who have luxury watches sell them in Houston, TX. Our appraisers understand how to evaluate the condition of your timepiece, taking into consideration a range of factors before arriving at a final figure. No matter the situation, you can trust us to provide you with an honest and fair appraisal. You can also count on us to deliver a no-pressure environment within our store. If you decide not to sell, we will never protest. Watches are involved – especially luxury brands. Below, you can find a guide to selling a luxury brand for the best price possible.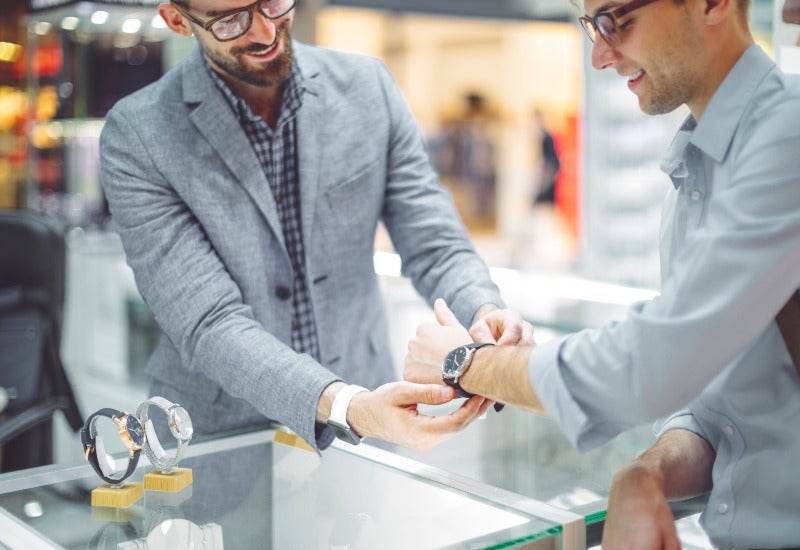 The Brands We Purchase
Rolex might dominate the luxury watch industry, but it is far from the only brand that manufactures timeless timepieces. Cartier, Patek Phillipe, Breitling, Omega, Tag Heuer, and Panerai – we have them all. We know how to appraise men's and women's styles from Michelle, Corum, Chopard, Vacheron Constantin, and Baume et Mercier. Pro tip: If you still have the original box and papers that came with your watch, bring them with you. These two items will improve the purchase price to the tune of 20 to 50 percent!  
The Factors That Impact the Sale Price of Luxury Watches
Luxury watches are no different than cars, coins, real estate, or anything else that rises or falls in value. Watches are not always the same kind of investment as a classic car. In other words, just because you purchased a Rolex in 1978 for $20,000 doesn't mean the watch is worth three times that amount today. More than one factor impacts our appraisals. We scrutinize every aspect of the watch, from the exterior components such as the glass faceplate, the band's condition, and the back of the watch itself. But perhaps more importantly, we investigate the inside of the watch. Regularly oiled and maintained watches will fetch a higher price – just as a taken care of 1967 Jaguar is worth more than a neglected car. One other factor we consider is whether any parts are unoriginal. In other words, a Rolex watch without all-original Rolex parts will depreciate. 

Do Repairs Impact the Final Sale Price?
Yes, but in a good way. If you have not cared for your watch, there is a strong chance the inner mechanisms require cleaning – and maybe replacement. One of the positives of selling your watch to a qualified jeweler like Houston Jewelry Buyers is knowing how to make the repairs ourselves. While it might be tempting to attempt the repairs yourself or send them to the manufacturer, neither option is the best one. In the case of trying to mend the watch on your own, a lot can go wrong. Watches are carefully created, and each component impacts the next in small to significant ways. As for sending the watch to the manufacturer, you will spend money and take a chunk out of what you make. It might be best to sell "as is" because we can perform the repairs after purchasing the watch. 
Is Investing in Luxury Watches A Good Idea?
Suppose you have a luxury timepiece from Rolex or some other high-end retailer. In that case, you might be asking yourself whether your watch is a collector's item someone else might want to invest in. It's a fair question. While the answer does depend on the watch and the condition, we can say that watches make for a better investment for jewelry because most places melt down the metals in the jewelry for recycling purposes. That isn't the case with a men's or women's luxury watch, which helps them retain their value. In turn, they are excellent items to sell – especially if you have taken care of them. 
Contact Us Today 
for
 A Free Appraisal
We have experience appraising and purchasing watches at fair rates for our customers. Earning quick cash for a Rolex or Cartier watch has never been easier. Our free appraisals and low-key atmosphere make the process easy and stress-free. Most importantly, we pride ourselves on accompanying our inspection with no pressure. In other words, we give you a figure and allow you to take your time deciding. Take the watch back home and think about it if you want. Contact us today for more information on the selling process. 
Why Choose Us?
FREE Appraisals
On-Site 24HR Security
Repairs While You Wait!
In-Store Fine Watch & Clock Center
Family Owned & Operated Since 1967