We Sell Fine Jewelry in Houston, TX
Fine Jewelry at Unbeatable Prices 
Featuring a stunning showroom packed with gorgeous pieces, Houston Jewelry Buyers' store is the go-to place for second-hand and new fine jewelry. Houston, TX residents have come to trust our expertise, honesty, and unparalleled inventory. We sell engagement rings to happy couples, Cartier diamond necklaces for anniversaries, and everything in between. Our expert jewelers understand their product's worth and work hard to maintain an impressive array of necklaces, pendants, bracelets, and much more. We offer unbeatable prices, and many of our pieces have a warranty. As a bonus, we offer repair and refurbishment services. There is no better place to buy jewelry in this city. 
Fine Jewelry for Houston, TX Jewel Enthusiasts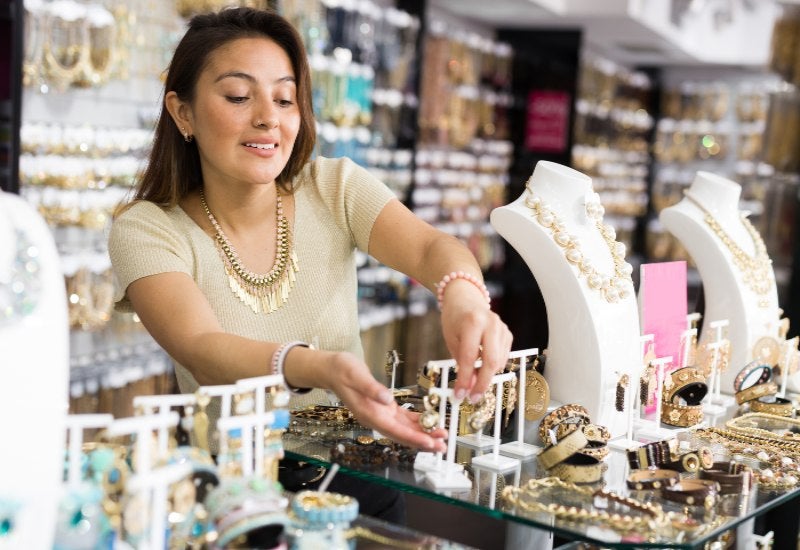 Many people do not understand the nuances and differences between fine and fashion jewelry – and why they matter. Fashion jewelry can appear top-quality, but it is often made from metals like stainless steel, titanium, or copper. While materials are perfect for kitchens and golf clubs, they do not produce a high-class appearance the way their counterpoints do. Fine jewelry includes precious alloy metals set with semi-precious pearls and gemstones. The metals include platinum, various golds, and sterling gold. Usually, fine jewelry contains gems such as sapphire, ruby, chalcedony, diamond, topaz, aquamarine, and vermeil. We can promise our fine jewelry will always include these top-shelf materials and will be in perfect condition. 
Antique Jewelry
for
 Those 
with
 Traditional Tastes
Antique jewelry is any piece that is at least 100 years old (or older.) Many art deco pieces from the 1920s now qualify as antiques. Age is the primary difference between an antique and a vintage piece. For example, a piece designed in the 1960s will not fall under the antique category for at least 40 years! We can promise we have carefully evaluated each piece that comes through our doors to ensure it is truly an antique, not a vintage piece of jewelry. One other important note: The benefit of choosing us for your antique jewelry needs is understanding the difference between antique and antique-inspired. Two of the most popular eras represented in our store are Victorian and Edwardian.  
Chic, Backward-Looking 
Vintage Jewelry
Just as with antique jewelry, there is an industry standard applied to all vintage jewelry: 20 to 30 years old. That means anything made after the 1990s does not qualify. An example of a vintage engagement ring would be your grandmother's piece designed in the late 1940s. Today, vintage styles continue to grow in popularity – among men and women. As a result, you can always find more than your fair share of vintage watches, necklaces, bracelets, and more at our store. 
Why Choosing Houston Jewelry Buyers Makes Sense
Accuracy is essential. Unfortunately, it takes a trained eye to identify the era in which jewelry is produced correctly. At Houston Jewelry Buyers, our appraisers have a comprehensive knowledge of jewelry production dating as far back as the 1800s. We know how to do our jobs accurately. Frequently, less reputable resources – like private buyers or pawnshops – might not be able to tell the difference between an antique piece and one merely designed in the style of a Victorian or Edwardian necklace or bracelet. That's why our expertise is our greatest asset. You can be sure each vintage or antique jewel has been accurately appraised and is priced appropriately. 
We Provide Repairs to All Types of Jewelry
Accidents happen, but when a treasured piece of jewelry breaks, heartbreak ensues. Fortunately, we provide jewelry repair services at our storefront. We can repair all kinds of defects and breakages, plus resize rings. We can also resize rings, restring pearls and beads, and repair sterling silver. These procedures take place for every used piece of jewelry we sell. When we buy jewelry from a customer, we always refurbish it before placing it on our shelves. That way, you can be certain of its quality. 
Free Appraisals on All Sold Jewelry
Houston Jewelry Buyers is proud of our legacy of excellence in the jewelry industry. Throughout Houston, customers have raved about our extensive collection of modern, antique, and vintage jewelry pieces. We offer free appraisals, so if you have a piece you no longer want, you can receive cash that can go toward picking a new necklace or bracelet to wear for years. Contact us today for more information. 
Why Choose Us?
FREE Appraisals
On-Site 24HR Security
Repairs While You Wait!
In-Store Fine Watch & Clock Center
Family Owned & Operated Since 1967