Sell Luxury Watches in Houston, TX
Big-as-Texas Collection of Authentic Watches
At Houston Jewelry Buyers, we have shelves and cases full of glamorous luxury watches. We host classic timepieces from brands such as Rolex, Cartier, Omega, and Breitling, to name a few. We are focused on continually expanding our collection to ensure we have something for everyone. Whether you fancy a vintage look or a modern take on the timepiece, we can help.
We believe that while luxury watches serve a function, they also exist as a way of self-expression. Find the best way to express yourself within the biggest collection in Houston, TX.
Why Buy Luxury Watches at Houston Jewelry Buyers?
Everyone has an iPhone or Android device these days – meaning there is no way to express your individuality through your phone. The same can't be said for a watch – especially a luxury brand. There are numerous benefits to investing in a luxury watch.
There's no better place to invest in a luxury watch than Houston Jewelry Buyers. We see the value in fashion and function and provide the best value luxury watches in Texas. Find a way to express yourself with our help today!
Types of Watches We Sell
We have watched for every taste and style. Those who prize unique looks might prefer a vintage 1950s timepiece. Thoroughly modern individuals might lean toward a stylish modern timepiece. Even in the mainstream market, vintage watches have exploded in popularity while modern watches have maintained their status.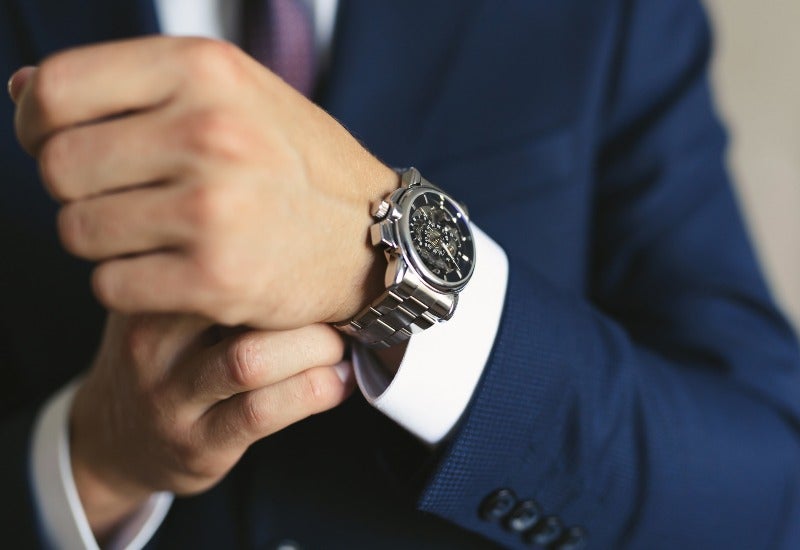 We have both vintage and modern luxury watches for sale from many timeless brands, including the following:
Rolex
Cartier
Omega
Breitling
Panerai
Michelle
Corum
Chophard
Vacheron Constantin
Baume et Mercier
For a long time, luxury watches for men were made with function in mind, with the timepieces designed for women being conceived more like jewelry. However, we are seeing a trend in the right direction toward luxury watches made for women.
Not only do we carry Cartier wristwatches, but we proudly have an array of luxury watches for women on hand from brands like Jaeger-LeCoultre and Patek Phillipe. If you are in the market for a new watch, come to Houston Jewelry Buyers. We have something you can wear for years to come.
How It Works
Are you ready to purchase a luxury watch, but aren't sure where to start? Are you overwhelmed by the many pieces and styles available? Our team has the tools to help. Come to our showroom where our certified timepiece experts can guide you in the right direction, or give us a call!
When you get to the showroom, our team will talk with you and get an idea of the look you are going for. They will then guide you to a showcase that fits your style and preferences. Our team will help you to find the perfect luxury watch. After you find the one, we will discuss payment at an affordable price for you.
We Buy Luxury Watches
Not only can you buy luxury watches at Houston Jewelry Buyers, but selling luxury watches with us is another great option. If the time has come for an upgrade in your collection, sell it to us! We offer free appraisals and fair prices on all luxury watches.
If you have a beloved luxury watch that isn't quite doing the job anymore, but you can't bear to part with it, we can also help with that! Watches are very delicate and precise machines. When one thing goes wrong, a luxury watch can stop telling time altogether. Our team offers watch refurbishment and repair to help your luxury watch stay in the game.
Choose Houston Jewelry Buyers
When you buy a luxury watch from Houston Jewelry Buyers, you know that you're getting the best quality money can buy. We have unbeatable customer service and unbeatable prices on luxury watches that will give you the perfect timepiece without breaking the bank.
We have a full-circle service, which means we sell, repair and buy your watches if you want to upgrade in the future. Whatever your journey brings, your watch is safe in our hands.
Contact Houston Jewelry Buyers for Luxury Watches
At Houston Jewelry Buyers, our business has been family owned and operated since 1967. We can't wait for you to join the Houston Jewelry Buyers family. Stop by next time you need the opinion of our trusted jewelry experts, or if you need to sell any of your fine jewelry.
Why Choose Us?
FREE Appraisals
On-Site 24HR Security
Repairs While You Wait!
In-Store Fine Watch & Clock Center
Family Owned & Operated Since 1967