Houston Jewelry Buyers: The Best Place to Buy Jewelry
Buy Custom Jewelry in Houston, TX
Look no further than Houston Jewelry Buyers for the best place to sell or buy jewelry. We purchase custom jewelry and other valued items like watches and clocks, but unlike other stores that melt down the metals to be recycled, we proudly refurbish the pieces into brand-new condition.
At Houston Jewelry Buyers, we are also experts at selling jewelry. We sell jewelry online, including diamonds, engagement rings, watches, designer purses, antique Edwardian and Victorian jewelry, and more.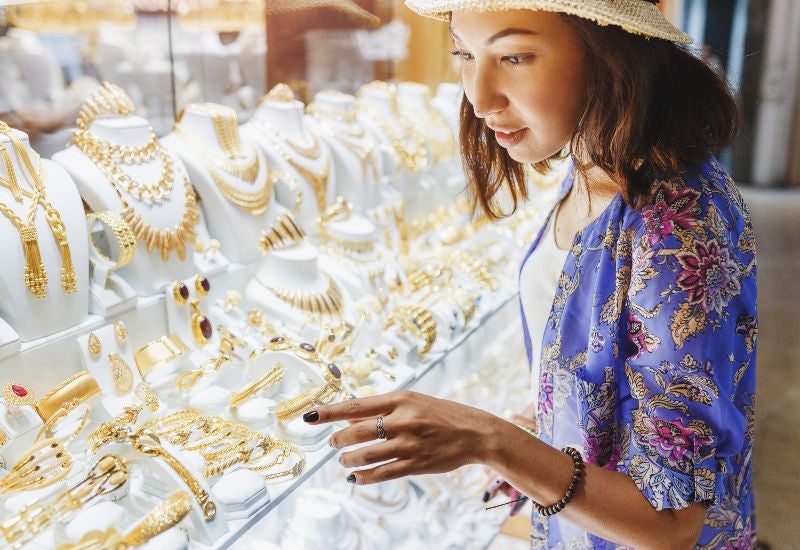 Shop Our Exclusive Jewelry Designer Collections & Rings
Are you wondering where to buy or sell jewelry? Our team at Houston Jewelry Buyers can help. We purchase custom jewelry and refurbish it to sell it good as new. Shop our top-quality jewelry selections, including:
Necklaces
Bracelets
Earrings
Men's Jewelry
We Sell Custom Jewelry Designs
At Houston Jewelry Buyers, you'll find nothing but quality jewelry handmade with a focus on detail. Our team of experts will work with you closely through every step of your experience to create the most perfect and customized jewelry product according to your needs. Our custom jewelry designs are hand-crafted to fit any elegant occasion, from weddings to graduations. If you can dream of an ideal custom jewelry design, our expert team can make it happen. We work with everything from valuable family generational jewels to abstract ideas to make your one-of-a-kind jewelry dreams come to life and last a lifetime.
Find the Perfect Design to Fit Your Style
Here at Houston Jewelry Buyers, we feature a one-of-a-kind client-centric experience. We understand that you work hard for your savings, so we provide the best quality luxury jewels at the best possible price point. Whether you are shopping with us to plan a wedding proposal, anniversary, Valentine's Day gift, or another special intimate occasion, you can count on us to provide:
A comfortable, welcoming, and safe environment
Personalized attention
In-house master jewelers and certified gemologists
Financing and payment options
Book an Appointment to Buy Designer Jewelry Today!
If you're searching for the best place to sell or buy jewelry, rely on Houston Jewelry Buyers for an unforgettable and high-quality experience. Whether you're looking for an engagement ring or an elite piece of jewelry, you can count on Houston Jewelry Buyers to have precisely what you're looking for at an unrivaled price point. Contact us today for more information on our services or contact us online to request a free quote.
Why Choose Us?
FREE Appraisals
On-Site 24HR Security
Repairs While You Wait!
In-Store Fine Watch & Clock Center
Family Owned & Operated Since 1967