Buy High-End Diamond Jewelry at Houston Jewelry Buyers
Houston Jewelry Buyers has provided stellar diamond jewelry to Houston, TX residents for years. Our willingness to go the extra mile is one reason why we have built longstanding reputations with clients searching for the perfect engagement ring or tennis bracelet for their partners. Our experienced and knowledgeable associates can help anyone find what they need, even if they don't quite know what they're looking for. We always have new and used brand-name diamonds onsite. If you are looking to sell diamonds, we also purchase them – along with a free appraisal. The cash in hand can help finance an upgrade or new diamond.
High-Quality Engagement Rings in Various Price Ranges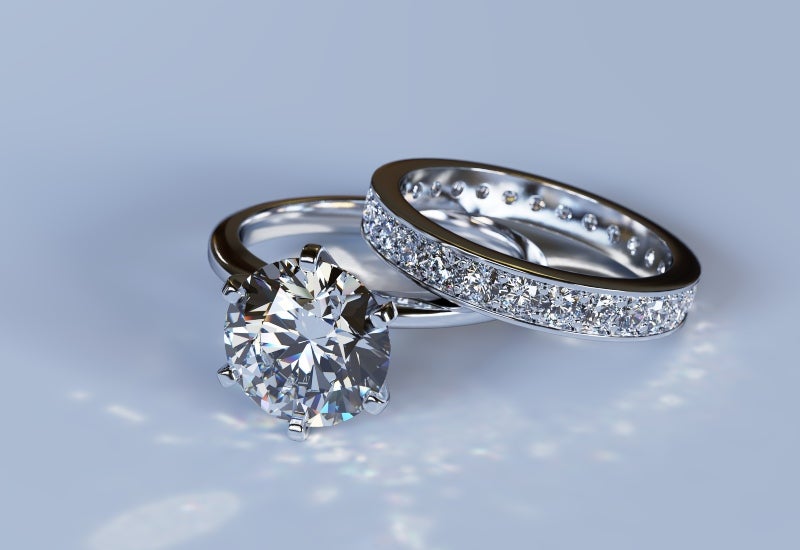 Most engagement rings contain more than one set of diamonds, but it is the center stone that creates most of the value and attracts the most attention. We have expert diamond graders who perform exhaustive appraisals, allowing Houston Jewelry Buyers to sell engagement rings to happy couples at affordable rates. We want to make your proposal special, and the perfect ring is one way to do so. We offer certificates with our rings, so you can be sure of their authenticity, carats, and quality.
Our Accurate Diamond Appraisals Lead to Fair and Honest Prices
Diamond rings aren't merely for wedding rings, of course. We carefully grade all diamond rings to ensure we do not charge more than the ring is worth. We look at several factors, including the size and quality of each diamond found on the band. We measure the weight and grade each stone before arriving at a final appraisal of the stones. We can do this for rings or loose diamonds. Our accurate and competitive prices are among the best in the area, making us the top destination for splurges and anniversary and birthday gifts.
Necklaces, Earrings, Bracelets, and Pendants
We are proud to carry an array of diamonds in our store at the best prices possible. We sell a variety of jewelry, ranging from designer necklaces to ornate pendants. We sell the following diamond jewelry items, plus much more:
Diamond Studs
At Houston Jewelry Buyers, you can find a pair of diamond stud earrings in various carats and weights. We are proud of our inventory and believe you'll find something perfect for yourself or a special someone.
Diamond Hoop Earrings
If you're looking to impress at a gala or an expensive date night, then a pair of diamond hoop earrings can't hurt. We always keep a wide selection – both new and used – in our showroom, so come down to take a look.
Tennis Bracelets
If you're looking for a unique gift, then a tennis bracelet might be just the thing. Coined due to professional tennis player Chris Evert losing hers during a tennis match, these versatile jewelry items work in multiple settings.
Graduated Necklaces
Graduated necklaces feature larger diamonds in the center of the chain with smaller stones tapering toward the clasp of the necklace. They present an understated, elegant image perfect for various social situations.
What Does Estate Jewelry Refer To?
Essentially, estate jewelry refers to previously owned diamonds, so they can fall into various categories and eras. Victorian-era diamond jewelry and art deco pieces can both qualify as estate pieces. As a result, there is some overlap between vintage and antique jewelry when we talk about estate jewels. However, despite the diamonds' previously owned status, we always refurbish, clean, and repair any defects before placing them on our shelves. We are proud of our reputation for honesty and low prices.
Call or Visit Us Today for a Free Appraisal
We are located in Houston's Galleria area, within easy access to the rest of the city and the surrounding area. In addition to selling diamonds, we also sell watches and other jewelry items. And if it is repaired you require; we provide them onsite at our store. We can resize diamond rings and repair necklaces and bracelets. We are also well known for our ability to repair complicated clocks and watches. Contact us today for more information.
Why Choose Us?
FREE Appraisals
On-Site 24HR Security
Repairs While You Wait!
In-Store Fine Watch & Clock Center
Family Owned & Operated Since 1967