We Sell Luxury Watches in Houston, TX
Check Our Expansive Collection of Authentic Watches
At Houston Jewelry Buyers, you'll find shelves and display cases chock full of glittering and glamorous luxury watches. Our Houston, TX jewelry store hosts timepieces from renowned brands such as Rolex, Cartier, Omega, and Breitling. Browse for a while, and you might find your next favorite IWC Schaffhausen or Jaeger-LeCoultre men's or women's watch. We are synonymous with luxury and high-class watches, which is why we continually expand our inventory to include brands such as Panerai, Michelle, Corum, Chopard, Vacheron Constantin, and Baume et Mercier. Whether you're looking for a modern or vintage watch, we've got it.
 Vintage Vs. Modern Luxury Watches. Which is Better?
Ultimately, it comes down to personal preference. Wristwatches began purely for practical purposes, but they have morphed into another way for people to express their individuality. Those who prize unique looks might prefer a vintage 1950s timepiece. But those who pride themselves on being a thoroughly modern individuals might lean toward a stylish timepiece. Even in the mainstream market, vintage watches have exploded in popularity while modern watches have maintained their status. Either way, our staff understands watches. After all, we purchase second-hand watches, which require us to know them inside and out.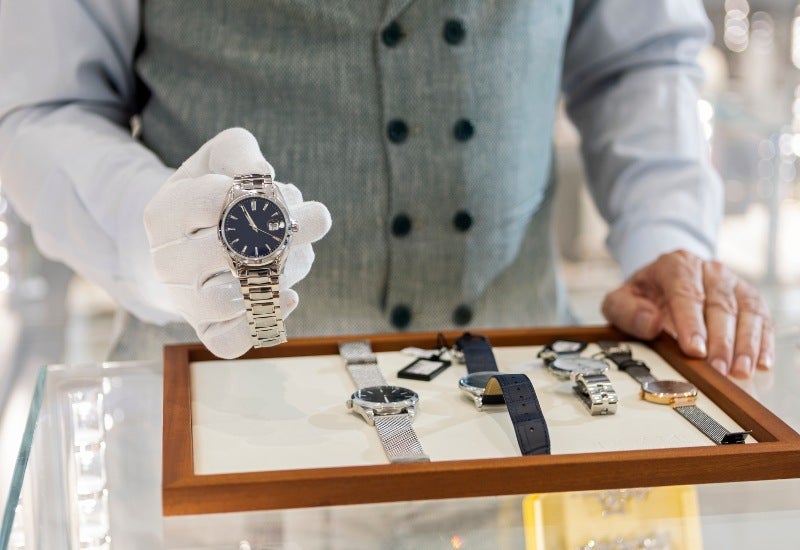 The Benefits of Wearing a Luxury Watch
We get it: In the smartphone days, wearing a wristwatch seems quaint and old-fashioned. But we disagree. Everyone has an iPhone or Android device these days – meaning there is no way to express your individuality through your phone. The same can't be said for a watch – especially a luxury brand. There are numerous benefits to investing in a luxury watch.
Turn Back the Clock – And Turn Heads
Think about it. How many people do you see wearing elegant timepieces these days? You're more likely to see high-tech smartwatches over an old-fashioned wristwatch. But investing in a Rolex or Cartier watch will dial back the clock and make you stand out among the rest of the population.
Convenience
"What time is it?" People ask us that question every day. How conveniently we answer the question depends on how easily we can reach our phones. However, the answer is always on your wrist with a watch—no more fumbling in a purse or back pocket to locate your smartphone. Plus, a wristwatch allows you to subtly check the time in situations where using a phone is inappropriate.
They're Impressive
Luxury watches are a collection of tiny mechanisms, screws, dials, and more. Over 100 years after their invention, they remain marvels of human engineering. Carrying one on your wrist not only makes a statement but also allows you to honor a century of innovation. High-end timepieces are the pinnacle of craftsmanship, and we promise you'll feel pride wearing one.
They Reflect Style
Do you prefer a retro look? Watches can provide it. What about something more attention-gathering? We've got silver and gold-banded luxury watches. Watches are, and always will be, the perfect fashion accessory because they express individuality while combining with anything you wear. Wear your watch on casual Friday to class up the joint or wear it with a tux. Anything goes.
Punctuality Matters
Keeping a tight schedule and showing up when you promise are essential to building trust with friends, family, and business associates. Sometimes, that can be difficult to accomplish with a phone. However, wearing time on your wrist is a constant reminder of your commitments. Those who work with you will appreciate it.
 Luxury Watches for Houston, TX Women
In the past, watchmaking focused on men, with the women's timepieces designed for women conceived more like jewelry. However, we are seeing a trend in the right direction toward luxury watches made for women. Not only do we carry Cartier wristwatches, but we proudly have an array of women's watches on hand from brands like Jaeger-LeCoultre and Patek Phillipe. If you are in the market for a new watch, then come to Houston Jewelry Buyers. We believe we'll have something you can wear for years to come.
 Watch Refurbishing and Sales
There are more pieces inside your watch than you think. Each one works with the next to make the second hand keep ticking. But here's the thing: You must maintain your watch to ensure it continues to keep perfect time. Dust and gunk can get inside the watch and gradually degrade it. Houston Jewelry Buyers offers to watch refurbishment and maintenance to those who are serious about maintaining their luxury watch. If you decide it's time to upgrade and want to sell something from your collection, we offer free appraisals and fair prices on all watch sales. Contact us today for more information.
Why Choose Us?
FREE Appraisals
On-Site 24HR Security
Repairs While You Wait!
In-Store Fine Watch & Clock Center
Family Owned & Operated Since 1967